Standard Kitchen Layouts & Work Triangles
Kitchen by Design inputs for architects and Interior Designers.
Work Triangles in Standard Kitchen Layouts
The dominant geometric shapes in most kitchens are the four-sided variety, from rectangular cabinetry to square appliances. But it is a triangle-albeit an imaginary one-that has always been an important element of a kitchen's design and functionality.
The "work triangle" is defined as an imaginary straight line drawn from the center of the sink, to the center of the cooktop, to the center of the refrigerator and finally back to the sink. The following guidlines are suggested by Kitchen By Design for work triangles which improves the ergonomics (Human Factor Engineering) that optimizes the workload and reduces the stress of a person operating in a kitchen
The Guidelines

The sum of the work triangle's three sides should not exceed 26 feet, and each leg should measure between 4 and 9 feet.
The work triangle should not cut through an island or peninsula by more than 12 inches.
If the kitchen has only one sink, it should be placed between or across from the cooking surface, preparation area, or refrigerator.
No major traffic patterns should cross through the triangle.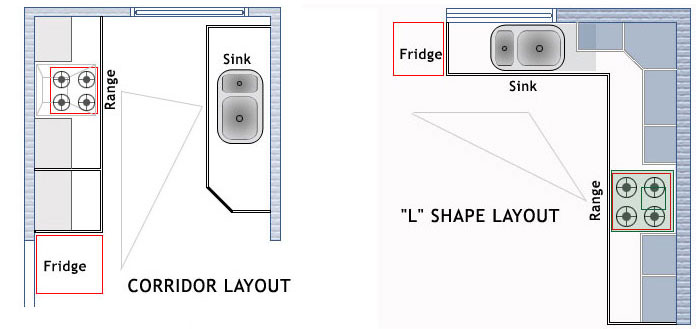 Guide to Counter Height: The right height of counter is very important. Improper height can alter the natural posture of a person and can lead to serious health concerns in future. For a person of Indian origin with heights varying between 5.20 to 5.70 feet we prescribe counter height of 3 feet so that the work in the kitchen is comfortable.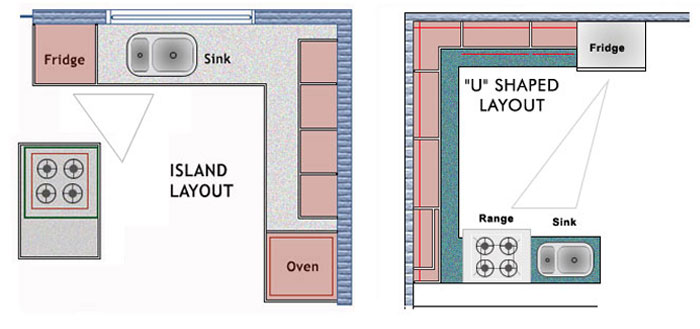 Guide to Wall Units: We recommend 32 inches depth with a gap of 16.5 inches between wall units and counter so that contents of the wall unit are completely visible and accessible even on the top shelves. Wall units with traditionally opening doors are an obstacle. The balanced lift-up door is preferred as it can stay open all the time necessary and allows you to move around safely.